Anemone Reef Dive Site
Anemone Reef is found in between Phuket and Phi Phi about 28km east of Chalong Bay, Phuket from where all the dive boats depart. This submerged reef is only a few hundred meters north of Shark Point and the 2 sites are often dived interchangeably on 3-tank dive trips out of Phuket, combined with Phi Phi or the King Cruiser Wreck, which is a little to the east of Anemone Reef. The King Cruiser hit the top of the reef in 1997 causing it to sink.
Anemone Reef is named after .. you guessed it – Anemones. In the shallow areas you find a carpet of sea anemones. The top of the reef is about 5 – 6 meters below the surface, with the sandy bottom at about 25 meters. The site is aligned north-south, and the local currents are also running in this direction. Depending on the direction of the current you may start a dive at either end of the reef, descend to the deeper areas and then dive around the reef gradually ascending. There is a mooring attached to the top of the reef. Ideally you want to end the dive there or use a safety balloon if surfacing away from the reef.
In deeper areas you have a lot of soft corals and sea fans where you can find many smaller critters like seahorses, ghost pipefish – hard to see, swim slowly! Like nearby Shark Point the area is covered with small fish sheltering from currents and avoiding predators – you may see larger jacks or trevallies darting into the reef trying to grab a mouthful of smaller reef fish. Leopard sharks may be seen in deeper sandy areas. Soldierfish and scorpion fish hide away in gaps in the reef. There may also be schools of snapper, small barracudas or sweetlips. Which is more beautiful .. Shark Point or Anemone Reef? If you ask local dive staff you'll find opinion is divided. They are both lovely dive sites!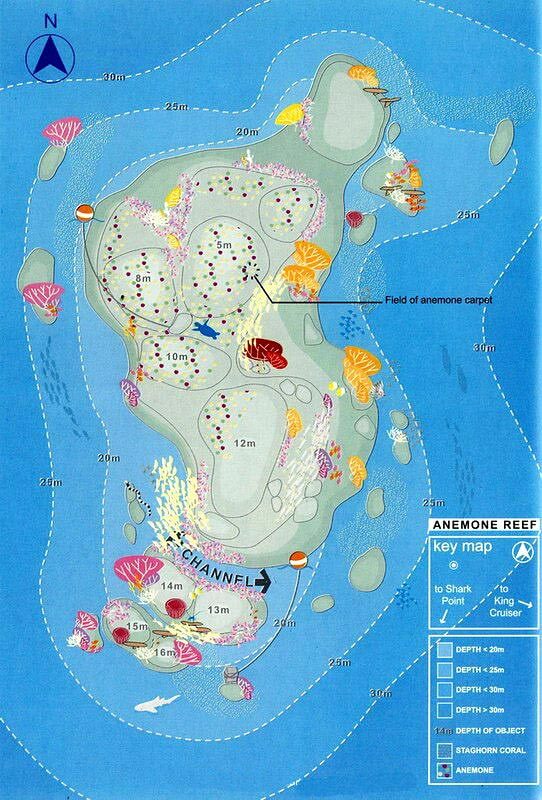 (above) Anemone Reef Dive Site Map
Trip Booking – Contact Sunrise Divers
Shark Point can be dived year round from Phuket. There are day trips every day which may include Anemone Reef, either combined with the King Cruiser Wreck or Phi Phi Islands. All trips include 3 dives, one of which may be at Anemone Reef, although sometimes this is switched to the nearby Shark Point.