Deep Andaman Queen Liveaboard Trips and Prices
Similan Islands & Richelieu Rock:
5 days / 4 nights (14 dives)
| Cabin Type | Trip Price | Trip Length | Dives | Enquiry |
| --- | --- | --- | --- | --- |
| Master Double Cabin – Main Deck | 48,500 THB | 5D / 4N | 14 | |
| Deluxe Double/Twin Cabin – Main Deck | 42,000 THB | 5D / 4N | 14 | |
| Standard Twin Cabin – Lower Deck | 38,000 THB | 5D / 4N | 14 | |
| Standard Triple/Twin Cabin – Lower Deck | 34,000 THB | 5D / 4N | 14 | |
| Standard Quad Cabin – Lower Deck | 31,500 THB | 5D / 4N | 14 | |
Myanmar & Thailand:
8 days / 7 nights (22 dives)
| Cabin Type | Trip Price | Trip Length | Dives | Enquiry |
| --- | --- | --- | --- | --- |
| Master Double Cabin – Main Deck | 90,500 THB | 8D / 7N | 22 | |
| Deluxe Double/Twin Cabin – Main Deck | 80,000 THB | 8D / 7N | 22 | |
| Standard Twin Cabin – Lower Deck | 70,500 THB | 8D / 7N | 22 | |
| Standard Triple/Twin Cabin – Lower Deck | 65,000 THB | 8D / 7N | 22 | |
| Standard Quad Cabin – Lower Deck | 61,500 THB | 8D / 7N | 22 | |
Myanmar & Thailand:
5 days / 4 nights (14 dives)
| Cabin Type | Trip Price | Trip Length | Dives | Enquiry |
| --- | --- | --- | --- | --- |
| Master Double Cabin – Main Deck | 64,500 THB | 5D / 4N | 14 | |
| Deluxe Double/Twin Cabin – Main Deck | 57,000 THB | 5D / 4N | 14 | |
| Standard Twin Cabin – Lower Deck | 50,500 THB | 5D / 4N | 14 | |
| Standard Triple/Twin Cabin – Lower Deck | 46,500 THB | 5D / 4N | 14 | |
| Standard Quad Cabin – Lower Deck | 44,000 THB | 5D / 4N | 14 | |
Photos Deep Andaman Queen
Deep Andaman Queen Liveaboard Information
The Deep Andaman Queen has several cabin types. Master and Deluxe on the main deck, and Standard on the lower deck. All cabins have private bathrooms with hot water, and are all air-conditioned. The two Master cabins with King size double bed are one of the largest on any liveaboard and includes private TV and DVD. 3 of the Deluxe cabins are queen size double bed, making this a great boat for couples – many Similan liveaboards have only twin beds. The other 2 Deluxe cabins are twin bed. The Master and Deluxe cabins all have ocean view windows. On the lower deck are the Standard cabins – there are two twin, one triple and one quad cabin. The Standard Twin cabin No. 3 is a little smaller and is available for the triple cabin price.
Deep Andaman Queen takes a maximum of 25 customers, and will have up to 6 dive staff on board to keep the ratio 4:1. The dive deck is very large, giving plenty of room for suiting up for your dives. A 4m RIB (tender) helps with pick ups after the dives. After your dives, catch the rays on the huge sun deck on top of the boat. As a bonus, this is one of the few boats with free WiFi (when in rage of Thai mobile phone signals).
The indoor salon, also aircon, is equipped with TV, DVD and entertainment centre. There are power points in all cabins and the salon for charging batteries. Food will be Thai (naturally) with some Western dishes, all served buffet style. Customers say the food is very good!
Diving Equipment
Rental equipment is provided by Sunrise Divers for our divers on the Deep Andaman Queen liveaboard. Rental price is 500 Baht per day for a set (BCD/regulator/fins/mask/wetsuit) and 250 Baht per day for a dive computer. We have a large equipment room at our dive center with 30 sets of Aqualung BCDs and regulators and a large selection of long and short wetsuits, open heel and full foot fins.
If you need to rent equipment we suggest you meet at our dive center on departure day, so you can try all equipment before departure. If not possible to meet at our shop, no problem, we will pack extra equipment in different sizes.
Torches for night dives are provided at no extra cost. 15 liter tanks extra 350 Baht per day.
Diving with Nitrox
Nitrox is available on board @ 250 Baht per 12 liter tank fill, or 2,000 Baht for 4 night trips, or 3,500 Baht for 7 night trips.
Advanced and Nitrox Courses
PADI Advanced Open Water course is 8,000 Baht. PADI Enriched Air (Nitrox) course is 8,000 Baht.
Drinks on Board
Drinking water, coffee, tea, sodas are included. Beers 120 Baht. Wine 800 Baht per bottle.
Check Availability or Make a Reservation
Please complete the form below to send an availability or booking enquiry to Sunrise Divers. You are also welcome to send a direct email to info@sunrise-divers.com or call our mobile hotline +66846264646. We are based in Phuket, Thailand. We will reply as soon as possible with full trip information and details on how to make a booking. Payments can be made by credit card (no card fees) or bank transfer. We look forward to hearing from you soon!
Send A Liveaboard Enquiry
Deep Andaman Queen Deck Plans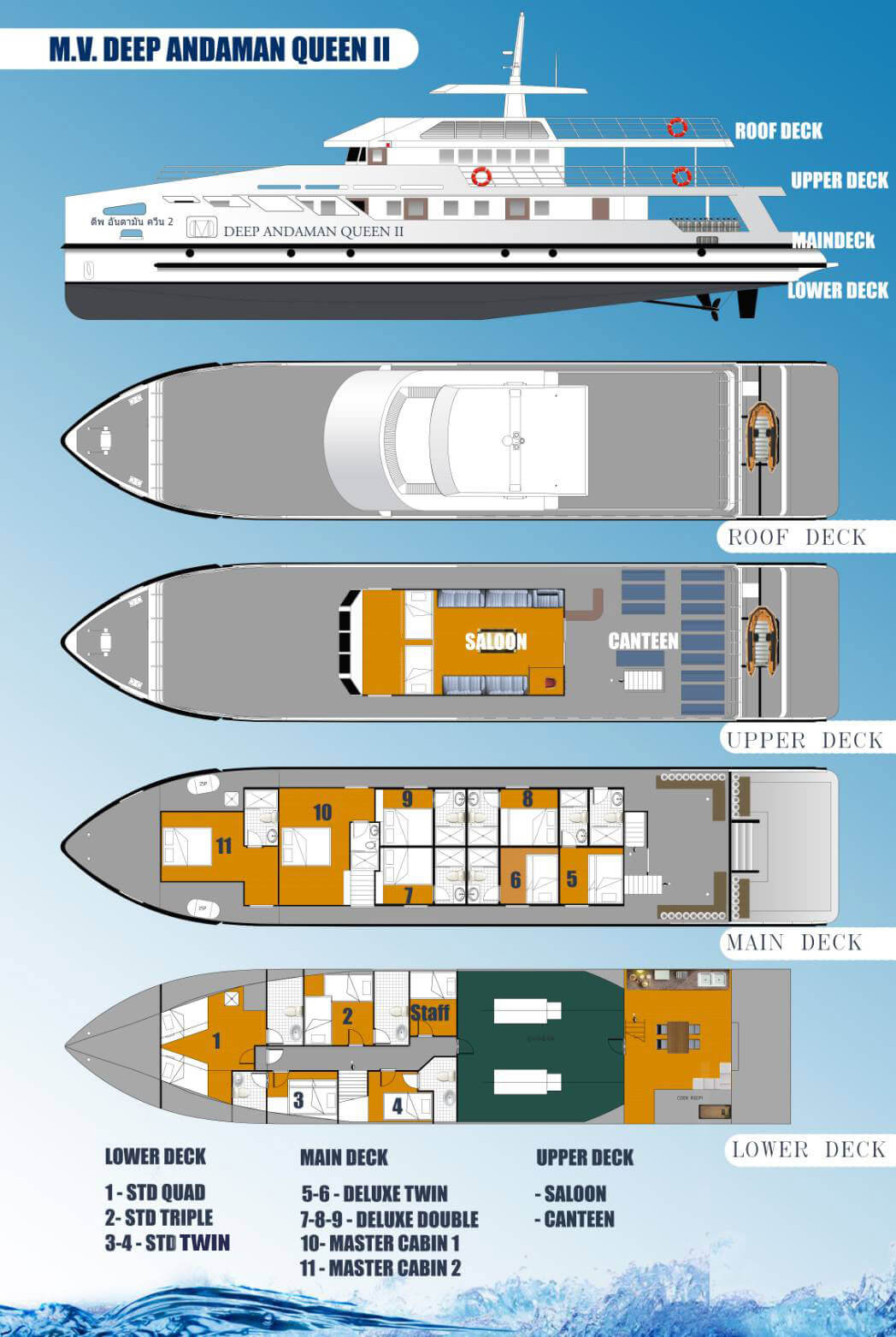 Deep Andaman Queen Itinerary
The Deep Andaman Queen is doing 4 night liveaboard tours to the Similan Islands. Including Koh Bon, Koh Tachai and Richelieu Rock plus 7 night trips to the Mergui Archipelago in Myanmar.
Itinerary 4 nights – Similan Islands, Koh Bon, Koh Tachai and Richelieu Rock
DEPARTURE DAY
16:00 – 18:00
Pick up from hotels in Phuket or Airport
Transfer by minibus to Thap Lamu Pier 1-2 hours
18:30 – 19:00
Pick up from hotels in Khao Lak
Transfer by minibus to Thap Lamu Pier 20 minutes
20:00
Dinner on Board and Departure to Similan Islands
DIVING DAY 1 – 3
07:00
Wake Up, Coffee, First Dive
08:30
Breakfast
11:00
Second Dive
12:30
Lunch
15:00
Third Dive
19:00
Night Dive OR
17:30
Dusk Dive
20:00
Dinner
DIVING DAY 4
07:00
Wake Up, Coffee, First Dive
08:30
Breakfast
10:30
Second Dive
12:00
Lunch and Cruising to Thap Lamu
15:00
Arrive Thap Lamu
15:30
Arrive Khao Lak Hotels
17:30
Arrive Phuket Hotels
Itinerary 7 nights – Mergui Archipelago, Myanmar
DEPARTURE DAY
16:00 – 18:00
Pick up from hotels in Phuket or Airport
Transfer by minibus to Thap Lamu Pier 1-2 hours
18:30 – 19:00
Pick up from hotels in Khao Lak
Transfer by minibus to Thap Lamu Pier 20 minutes
20:00
Dinner on Board and Departure
DIVING DAY 1
07:00
Wake Up, Coffee, First Dive at Koh Bon
08:30
Breakfast
11:00
Second Dive at Koh Tachai
12:30
Lunch
15:00
Third Dive at Richelieu Rock
19:00
Night Dive OR
17:30
Dusk Dive
20:00
Dinner and Cruising to Ranong
DIVING DAY 2
07:00
Wake Up, Breakfast
09:00
Thai Immigration
10:00
Myanmar Immigration, Cruising
12:00
Lunch
14:00
First Dive
17:00
Second Dive and cruising north
20:00
Dinner
DIVING DAYS 3 – 5
07:00
Wake Up, Coffee, First Dive
08:30
Breakfast
11:00
Second Dive
12:00
Lunch
15:00
Third Dive
17:30
Dusk Dive OR
19:00
Night Dive
20:00
Dinner
DIVING DAY 6
07:00
Wake Up, Coffee, First Dive
08:30
Breakfast
11:00
Second Dive
12:00
Lunch, Cruising to Kawthaung
15:00
Myanmar and Thai Immigration
19:00
Dinner
DIVING DAY 7
07:00
Wake Up, Coffee, First Dive
08:30
Breakfast
11:00
Second Dive
12:00
Lunch, Cruising to Thap Lamu
13:00 – 15:00
Disembark
15:00 – 17:00
Transfer to Hotels
Deep Andaman Queen Safety & Specifications
Vessel Information
| | |
| --- | --- |
| Boat Type | Steel Motor Vessel |
| Year Rebuilt | 2019 |
| Length | 31 Meters |
| Width | 6.5 Meters |
| Maximum Guests | 25 |
| No. of Cabins | 11 (2 Master, 5 Deluxe, 4 Standard) |
| Engines | 2 x Hino 510 HP |
| Maximum Speed | 12 Knots |
| Nitrox on Board | Yes |
Depp Andaman Queen Safety Specifications
Marine Radar
Depth Sounder
GPS
Marine Radio
Life Rafts
Life Vests
Fire Alarm
Fire Extinguishers
Oxygen
First Aid Kit
Satellite Phone
Deep Andaman Queen Schedule 2020 – 2021
Loading
Thailand & Burma Liveaboard Tours – From Phuket & Khao Lak