Richelieu Rock Dive Site
Certainly one of the best dive sites in Thailand, Richelieu Rock is an isolated pinnacle about 10km east of Surin Islands and 100km NNE of the Similan islands. The very top of the rock is just visible at low tide, but submerged at high tide. Below the surface Richelieu Rock is approximately horseshoe shaped consisting of several groups of rocks, pinnacles, overhangs and small caves. It drops most steeply on the north and west side, while the south side slopes more gently on the "inside" of the horseshoe. Maximum depth is about 35 meters, but it can be dived mostly at 20 – 28 meters.
Due to the currents sweeping over this pinnacle, there's not so much hard coral, but plenty of soft coral. The currents can be strong, but it's easy enough to find shelter on one side of the pinnacle or another, as it covers a large area. It's too big for one dive, most Liveaboards will include at least 2 dives here. If you don't have time for a 4 nights cruise or longer, you might be interested in the popular 3 days / 2 nights liveaboard cruise. Should you not have time to do any longer trip, we can offer you a Day Trip to Richelieu Rock from Khao Lak during our high season.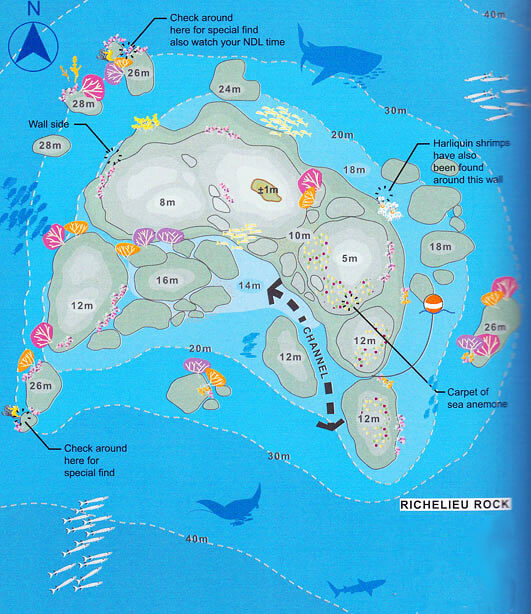 (above) Richelieu Rock Dive Site Map
Marine life at Richelieu Rock is bountiful. This large rocky pinnacle is the only sheltered area between the Surin Islands and the mainland. A great place for photographers, both macro and wide angle. Such small critters as seahorses, ghost pipefish, harlequin shrimp or frogfish can be found. The rare tomato clownfish lives here and mating octopus are often spotted.
Pelagic fish surround Richelieu. You will almost certainly find big schools of trevally and barracuda and other schooling fish such as snappers and fusiliers. Plus, what many divers hope to see are the giants of the ocean – whalesharks are seen here, as well as manta rays. No promises, but there is a good chance!
Richelieu Rock is on the route of most Thailand liveaboards. There are occasional day trips possible from Khao Lak, but it's a long way for 2 dives! Richelieu is still one of the best dive sites in Asia (even if you don't get lucky enough to see a whaleshark!)
Contact Sunrise Divers