South Siam 3 & 4 Trips and Prices
Similan Islands & Koh Bon:
2 days / 1 night (7 dives)
| Cabin Type | Trip Price | Trip Length | Dives | Enquiry |
| --- | --- | --- | --- | --- |
| Double Cabin | 13,900 THB | 2D / 1N | 7 | |
| Twin Cabin | 13,900 THB | 2D / 1N | 7 | |
PARTIAL DIVE SCHEDULE 2023 – 2024
Similan Islands, Koh Bon, Koh Tachai & Richelieu Rock:
3 days / 2 nights (11 dives)
| Cabin Type | Trip Price | Trip Length | Dives | Enquiry |
| --- | --- | --- | --- | --- |
| Double Cabin | 22,900 THB | 3D / 2N | 11 | |
| Twin Cabin | 22,900 THB | 3D / 2N | 11 | |
PARTIAL DIVE SCHEDULE 2023 – 2024
Similan Islands, Koh Bon, Koh Tachai & Richelieu Rock:
4 days / 3 nights (15 dives)
| Cabin Type | Trip Price | Trip Length | Dives | Enquiry |
| --- | --- | --- | --- | --- |
| Double Cabin | 26,900 THB | 4D / 3N | 15 | |
| Twin Cabin | 26,900 THB | 4D / 3N | 15 | |
South Siam 4 Photos
South Siam 4 Liveaboard Information
The South Siam 4 and South Siam 3 are lower budget liveaboards. The liveaboards accommodate a maximum 28 guests sleeping in twin or double air-conditioned cabins, with 6 shared bathrooms. On the upper deck you find a large shaded outdoor seating area where large meals are served to hungry divers, plus an indoor air-conditioned lounge equipped with TV and DVD. On the very top deck of the South Siam is a large sundeck.
South Siam is a good choice for a lower budget. Short trips that includes all the dive sites normally visited by trips of 4 – 5 days. Great if you have a short time but want to see as much as possible. With trips as short as 3 days / 2 nights including the Similan's, Koh Bon, Koh Tachai and Richelieu Rock there's a great variety of diving in a short period. or you can just do an overnight trip with 7 dives, ideal for a weekend!
Note that this boat unlike most other liveaboards, does not provide towels, please bring a towel with you.
All trips on the South Siam 4 or South Siam 3 start very early. Pick up time in Phuket is between 6 – 6:30am. Guests are transferred by minibus to the port of Thap Lamu, around 2 hours drive from our home at Karon Beach. Breakfast is available at the port on departure day before boarding the speedboat. Usually just some toast and coffee, you may want to bring something with you to eat on the minibus ride. At the port you transfer to the speedboat for a 90 minute dash to the Similan Islands to join the dive boat. On your final day you will make 3 dives in Similan, and expect to be back in Phuket by 6 – 7pm. Transfers from / to Khao Lak hotels are also possible and indeed recommended to avoid the 2 hours each-way transfer from/to Phuket.
NOTE that at busy times the boat is likely to be crowded and note that day trippers can join some days too. You have 28 guests sleeping on the boat, plus new divers arriving and on changeover days there can sometimes be 50+ divers. The boat is well run, but some people may find it a little too busy. If you want a quiet boat with less divers, this is not the one for you. Divers booking on the South Siam boats should have Advanced Open Water certification or Open Water with at least 20-30 dives and have dived in the last year. Divers with less experience or who have not dived for a long time may be able to join, but need to pay extra for a private divemaster.
All divemasters on the boat are working for the boat – we send private guides if divers are less experienced or on request (2000 Baht per day).
Overnight trips can start on Monday, Tuesday, Thursday, Friday or Saturday. 3 day / 2 night trips can start Tuesday, Wednesday, Saturday or Sunday. 4 day / 3 nights you can start any day except Thursday.
Diving Equipment
Rental equipment is provided by Sunrise Divers for our divers on the South Siam liveaboard. Rental price is 300 Baht per day for a set (BCD/regulator/fins/mask/wetsuit), 200 Baht/day for a dive computer and only 150 Baht/day for dive insurance. We have a large equipment room at our dive center with 30 sets of Aqualung BCDs and regulators and a large selection of long and short wetsuits, open heel and full foot fins.
If you need to rent equipment we suggest you meet at our dive center at least 1 day before departure day, so you can try all equipment before departure. We can't arrange on departure day because these trips have early morning pick up starting 6am, so all equipment is prepared the day before. If not possible to meet at our shop, no problem, we will pack extra equipment in different sizes.
Torches for night dives, no charge. 15 liter tanks available 300 Baht per day.
Nitrox
Nitrox is not blended on the boat, but if you want to use Nitrox you can order in advance, price 350 Baht per 12 liter fill. Tanks have to be carried to the boat from the mainland by speedboat.
Courses
PADI Advanced Open Water course is 8,500 Baht. PADI Enriched Air (Nitrox) course is 8,500 Baht.
Drinks
Drinking water, coffee, tea and sodas are included. Beers are 50 Baht.
Check Availability or Make a Reservation
Please complete the form below to send an availability or booking enquiry to Sunrise Divers. You are also welcome to send a direct email to [email protected] or call our mobile hotline +66846264646. We are based in Phuket, Thailand. We will reply as soon as possible with full trip information and details on how to make a booking. Payments can be made by credit card (no card fees) or bank transfer. We look forward to hearing from you soon!
Send A Liveaboard Enquiry
South Siam 4 Deck Plans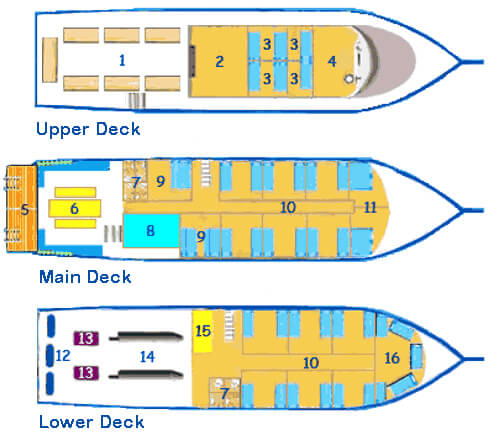 1 Dining Area – 2 Salon – 3 Staff Cabins – 4 Wheelhouse – 5 Dive Platform
6 Dive Deck – 7 Bathrooms – 8 Galley – 9 Staff cabins – 10 Twin cabins
11 Double bed cabins – 12 Compressors – 13 Generators – 14 Engine – 15 Storage – 16 Staff Cabin
South Siam 4 Itinerary
We have included below a typical itinerary for a 3 day/2 night trip. You can also do 2 day/1 night, 4 day/3 night or even longer stays on the South Siam boats.
Itinerary 3 days/2 nights – Similan Islands, Koh Bon, Koh Tachai and Richelieu Rock
DAY 1
05:50 – 07:00
Pick up from hotels in Phuket*
Transfer by minibus to Thap Lamu pier 1 – 2 hours
07:30 – 07:45
Pick up from hotels in Khao Lak
Transfer by minibus to Thap Lamu Pier 15-25 minutes
08:30
Check in at the pier, light breakfast, pay fees,
depart by speedboat to Similan Islands
10:00 – 10:30
Arrive at South Siam Liveaboard
11:00
First Dive
12:30
Lunch
14:00
Second Dive
16:30
Third Dive
19:00
Night Dive
20:00
Dinner
DAY 2
07:00
Wake Up, Coffee, First Dive
09:00
Breakfast
11:00
Second Dive
12:30
Lunch
14:00
Third Dive
17:00
Late afternoon dive
19:00
Dinner
DAY 3
07:00
Wake Up, Coffee, First Dive
09:00
Breakfast
11:00
Second Dive
12:30
Lunch
14:00
Third Dive
15:30
Pack up and disembark
Speedboat back to Thap Lamu port
17:00
Arrive Thap Lamu port
17:30
Arrive Khao Lak Hotels
18:30 – 19:00
Arrive Phuket Hotels
South Siam 4 Safety & Specifications
Vessel Information
| | |
| --- | --- |
| Boat Type | Wood Hull Motor Vessel |
| Year Built | 2005 |
| Length | 28 Meters |
| Width | 6.5 Meters |
| Maximum Guests | 28 ++ |
| No. of Cabins | 14 (4 Double, 10 Twin) |
| Engines | 2 x Hino 420 HP |
| Maximum Speed | 10 Knots |
| Nitrox on Board | On request if booked in advance |
Safety Specifications
Marine Radar
Depth Sounder
GPS
Marine Radio
Life Rafts
Life Vests
Fire Extinguishers
Oxygen
First Aid Kit
Satellite Phone
South Siam 3 – 4 Schedule 2023 – 2024
Loading