What are the very best liveaboards in Thailand?
Sunrise Divers has been operating in Phuket, Thailand since 1999. Over the years we have always offered our customers a range of liveaboard options here in Thailand (and also in Myanmar and Indonesia). What is the best liveaboard? That might seem like an easy question, but really what you need to ask is "What is the best liveaboard for you?" Which boat suits your budget, suits your schedule, has the right kind of accommodation on board, visits the dive sites that you want to dive? Because we have been here many years, and have logged thousands of dives, been on countless trips, we can help you to find the best liveaboard trip. We carefully check all boats and offer what we think are the best liveaboards in all price ranges.
Liveaboard Prices
Probably the most important factor for most people when deciding on the best liveaboard option is the price. We can advise you that the Dive Race Class e is one of the best liveaboard, and if you are happy paying 45,000 Baht for a 4 night trip and you want a luxury boat, then this is the boat for you! In reality, everyone has a different budget. There are liveaboards for less than 23,000 Baht for 3-4 days, and many boats in the 25,000 – 40,000 Baht price range. Some boats have different cabin types so there is a range of prices on the same boat. Some people do want the best cabins, others are happy to have bunk beds and shared bathrooms. See also: How much does diving in Thailand cost?
(above) Dive Race – Luxury Liveaboard – Deluxe Double Cabin

(above) Best Value Pawara Liveaboard
Your Travel Dates
Also very important – when are you traveling and how many days do you have available to dive? Also – if you book early you will have more choice of liveaboards. If you book late or last minute, well you might pick up a last minute price, or you might be unlucky and find everything is full already! We offer boats with trips from 2 – 10 days diving in Thailand. The best place to start looking is with a Liveaboard Search – enter your dates and see what trips are scheduled, then contact us to check latest availability. If you have flexible travel dates you will have more options. If your dates are very fixed, you might not get your exact first choice boat, but you can be sure that we'll do our best to find you a good trip!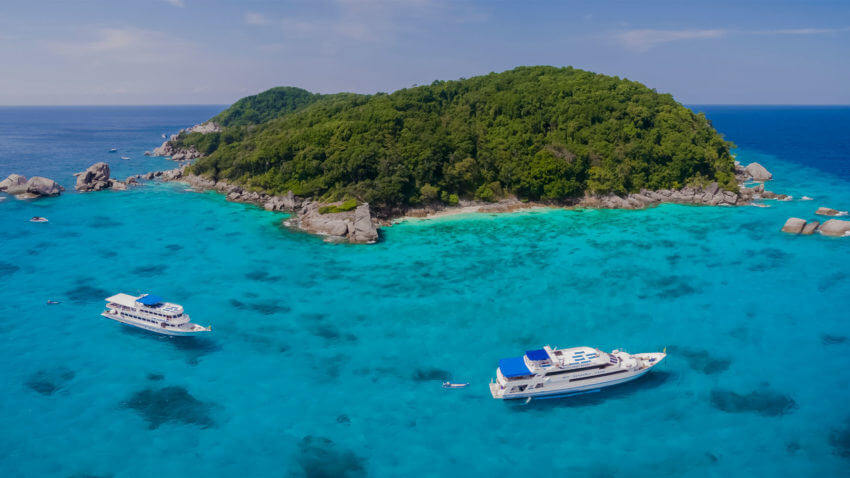 (above) Liveaboards at the Similan Islands
Cabins on Liveaboards
Different boats have different cabin types. The lower budget boats normally have twin or sometimes quad share cabins, and you use shared bathrooms. Mid price boats may have a mix of cabins – larger Master double bed cabins with bathrooms, deluxe twin cabins with bathrooms and maybe a few cheaper spaces in twin cabins using shared bathrooms. Not many boats have single cabins. Often if you really want your own cabin you have to pay a large single supplement. Sharing is not so bad! Most boats will guarantee same-sex cabins, so if you are a single lady, you won't share with a guy who you don't know. Some boats have triple or quad options that may be ideal if you are traveling in small groups. Everyone wants something different – if you have questions, please do ask us!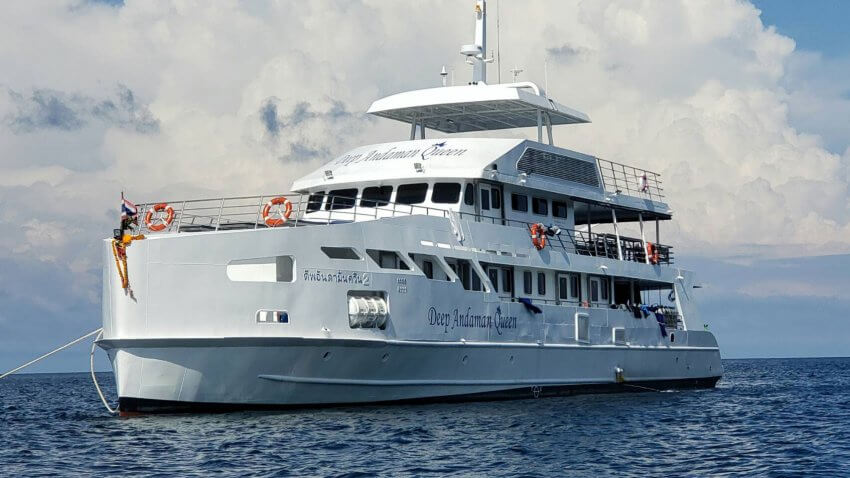 (above) The refurbished Deep Andaman Queen Liveaboard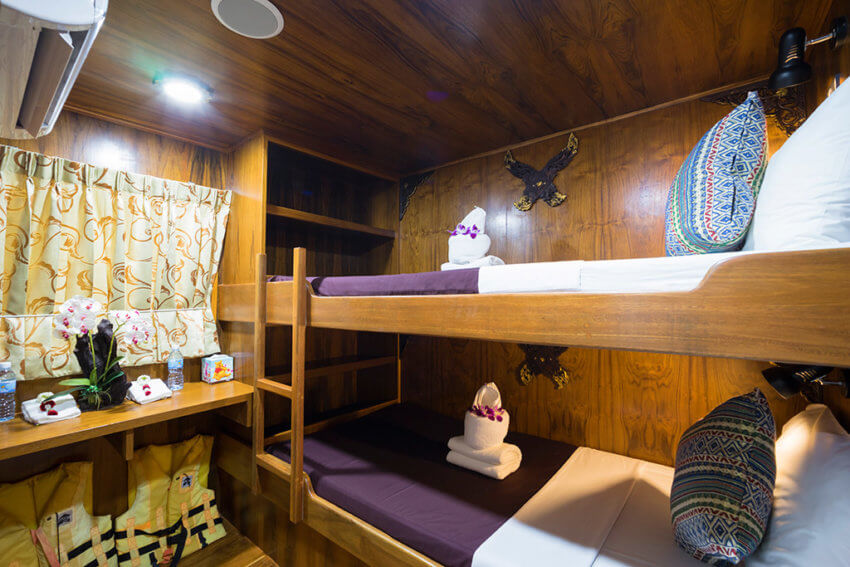 (above) Deluxe Twin Bunk Cabin on the Sawasdee Fasai Liveaboard
Liveaboard Dive Sites
Where do you want to dive? Well, most people will want to dive the Similan islands and Richelieu Rock and that is where most trips will dive. There are some trips that dive in the main Similan islands, maybe at nearby Koh Bon but not any further north. The Similan islands are about 100km northwest of Phuket, or 60km west of Khao Lak. Richelieu Rock is about 100km north of the Similan islands. Some boats might include a dive or two at the Surin Islands which are west of Richelieu Rock. Some trips head southeast from Phuket to dive at Hin Daeng and Hin Muang, and in the summer we do offer some short liveaboards to Koh Phi Phi and the Racha Islands nearer to Phuket.
Thailand Liveaboards – Contact Sunrise Divers
Do contact us with any questions about liveaboard diving in Thailand. We hope to see you here!