Raja Manta Trips and Prices
Raja Ampat and Misool:
8 days / 7 nights (22 dives)
| Cabin Type | Trip Price | Trip Length | Dives | Enquiry |
| --- | --- | --- | --- | --- |
| Deluxe Cabin | 3,000 US$ | 8D / 7N | 22 | |
| Standard Cabin | 2,550 US$ | 8D / 7N | 22 | |
Raja Ampat and Misool:
9 days / 8 nights (26 dives)
| Cabin Type | Trip Price | Trip Length | Dives | Enquiry |
| --- | --- | --- | --- | --- |
| Deluxe Cabin | 3,600 US$ | 9D / 8N | 26 | |
| Standard Cabin | 3,000 US$ | 9D / 8N | 26 | |
Ambon – Banda – Ring Of Fire:
9 days / 8 nights (22 dives)
| Cabin Type | Trip Price | Trip Length | Dives | Enquiry |
| --- | --- | --- | --- | --- |
| Deluxe Cabin | 3,700 US$ | 9D / 8N | 26 | |
| Standard Cabin | 3,200 US$ | 9D / 8N | 26 | |
Sangalaki:
7 days / 6 nights (18-20 dives)
| Cabin Type | Trip Price | Trip Length | Dives | Enquiry |
| --- | --- | --- | --- | --- |
| Deluxe Cabin | 2,250 US$ | 7D / 6N | 18-20 | |
| Standard Cabin | 1,850 US$ | 7D / 6N | 18-20 | |
Raja Manta Photos
Raja Manta Liveaboard Information
Raja Manta was built in Phuket, Thailand and started operating Similan Islands liveaboards trips in November 2011. She relocated to Indonesia in August 2016. Raja Manta is a top class boat with 12 spacious cabins. The boat is a big one – 36 meters long with a beam of 7.5 meters. Lots of space! For Indonesia trips the maximum number of guests will be limited to 22.
The indoor saloon is 500 sq feet with dining table and sofas. There is a 42 inch plasma TV with 500 movies to choose from! Outdoors you have a 600 sq foot dining area and there is a 1000 sq foot sundeck too!
The Raja Manta cabins – there are 5 deluxe double cabins – 2 on the top deck, 2 on the main deck. There are 4 deluxe twin cabins on the main deck. These 8 deluxe cabins have private bathrooms. On the lower deck are 4 standard twin cabins using shared bathrooms. For Indonesia trips only 3 of the standard cabins will be occupied, limiting the number of guests to 22, although you can take a few more if you charter the whole boat!
The dive deck is very spacious, and diving is made in small groups of 4 – 5 divers with a dive guide / instructor. No less than 3 RIBs (dinghies) assist with pick ups and drop offs.
Diving Equipment
Rental equipment is provided on board the Raja Manta liveaboard. Any rentals you need, please book in advance. Rental rates per day, per item – BCD, Regulator, Computer, Torch 12 US$ – Wetsuit 8 US$ – Fins, Mask 5 US$ – 15 liter Tank US$12
Nitrox
Nitrox is available on board @ 5 US$ per 12 liter tank fill or 5 US$ per diving day.
Check Availability or Make a Reservation
Please complete the form below to send an availability or booking enquiry to Sunrise Divers. You are also welcome to send a direct email to [email protected] or call our mobile hotline +66846264646. We are based in Phuket, Thailand. We will reply as soon as possible with full trip information and details on how to make a booking. We look forward to hearing from you soon!
Send A Liveaboard Enquiry
Raja Manta Deck Plans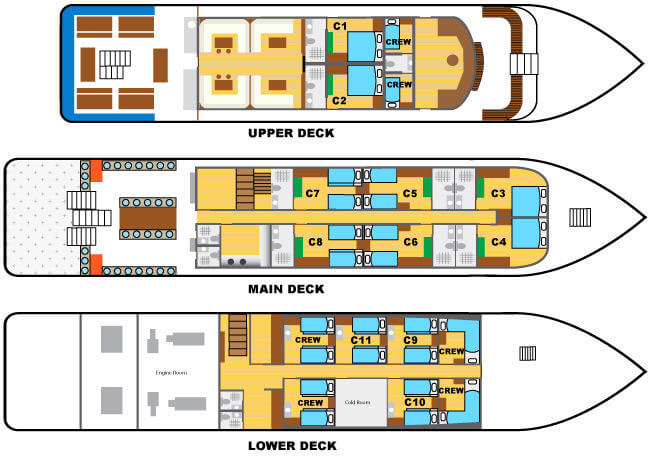 Raja Manta Itinerary
Raja Manta has a schedule consisting of trips in many locations and with trip duration from 6 to 11 nights departing from Sorong, Ambon, Manado, Berau and more. Please do check the full schedule and send a trip enquiry or simply contact us with your planned diving dates and we can suggest a trip and send you trip details and a full itinerary. There's too much information for one page here!
Raja Manta Safety & Specifications
Vessel Information
| | |
| --- | --- |
| Boat Type | Steel Motor Vessel |
| Year Built | 2011 |
| Length | 36 Meters |
| Width | 7.5 Meters |
| Maximum Guests | 22 |
| No. of Cabins | 11 (4 Deluxe Double, 4 Deluxe Twin, 3 Standard Twin) |
| Engines | 2 x Cummins 500 HP |
| Maximum Speed | 12 Knots |
| Nitrox on Board | Yes |
Safety Specifications
Marine Radar
Depth Sounder
GPS
Marine Radio
3 Life Rafts
Life Vests
Fire Alarm
Fire Extinguishers
Oxygen
First Aid Kit
Satellite Phone
EPIRB
Raja Manta Schedule 2020
Loading